We're he-ere! The Disney World Resorts in Orlando!
They sure know how to make their guests comfortable around these parts.
Aren't these chairs awesome? Suddenly I'm craving a tea party.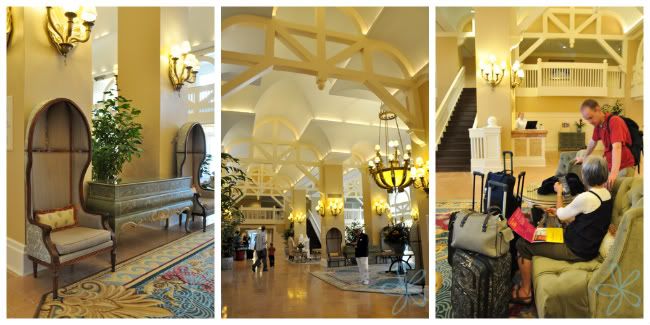 Yesterday was great! We landed in Orlando at 4-ish, so - good news - we had plenty of time to play. I've already made a commitment to myself to take more pictures, because yesterday I mostly just soaked everything in and enjoyed the family time and amazing sights. Sights like Mickey Mouse busing tables ;)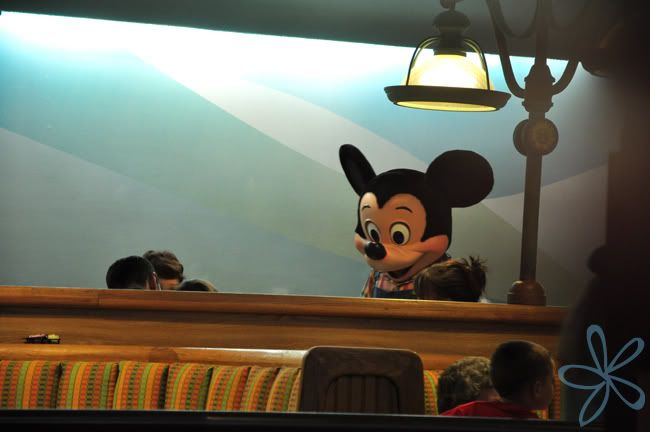 My brother Pete is here with Dad, Madre and I, because his work sent him for the same conference that Dad's here for. He's never been to a lot of these fun places, so it's been fun to show him around so far and not be a "third wheel" persay. Yesterday, we went to Epcot - road some rides, ate some not-so-healthy, but oh-so-delicious food and bonded...perdy much :) T'was fun!
In fact, The Wine and Food Festival is going on at Epcot right now. As we were walking around the World Showcase through crowds of "tipsy" folks draining wine glasses, Pete turned to me and said, "Well it's happy hour here at the happiest place on earth." Haha! And how.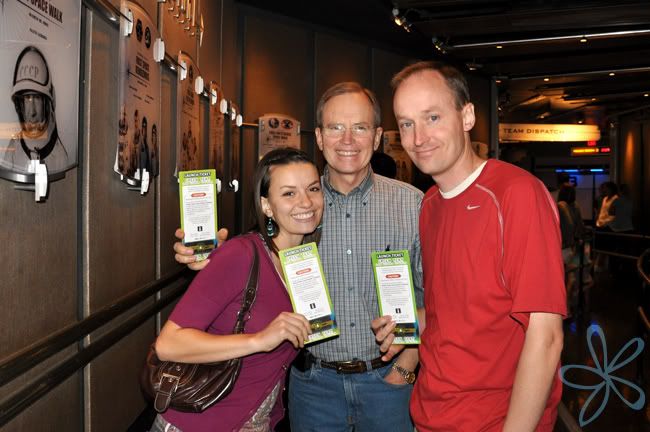 Here we are, about to go into "flight training" on Mission Space. The green tickets mean we're wimps... We (Mom & Dad) chose the "less intense" simulator. BO-RING! Then again, it was probably a smart choice seeing as we had just eaten.
This particular simulation took us to Mars - Dad was the Flight Navigator, Pete was the Pilot, Madre was the Commander and I was the...well, I can't remember what I was, but it was something important no doubt. What I do remember is that we all looked like a bunch of kids buckled into the 25 cent rocking rocket ship at the grocery store. We were quite good at flipping all the intriguing switches and pushing the blinking buttons... Haha! That's the great thing about Walt Disney World - everyone's a kid! Our mission to Mars was successful, bytheway. Phew!
There's only been one crummy thing about this trip so far...my back is having issues. Let's face it, my back always has issues, but it's never hurt this bad for this long and it's starting to get on my last nerve...that may or may not be a literal statement. So, hopefully I can figure out what its problem is. Last night was no bueno - my spine went head-to-head with the mattress and the mattress won. Basically, all of my insides, in the trunkular region, have taken up arms against me...which is awkward because they are PART of me. Hm.
Oh well, maybe I'll get a massage out of it! ;)
Anyway.
At the end of the evening there was a sweet firework/laser show out on the lake. It was pretty spectacular, music and all!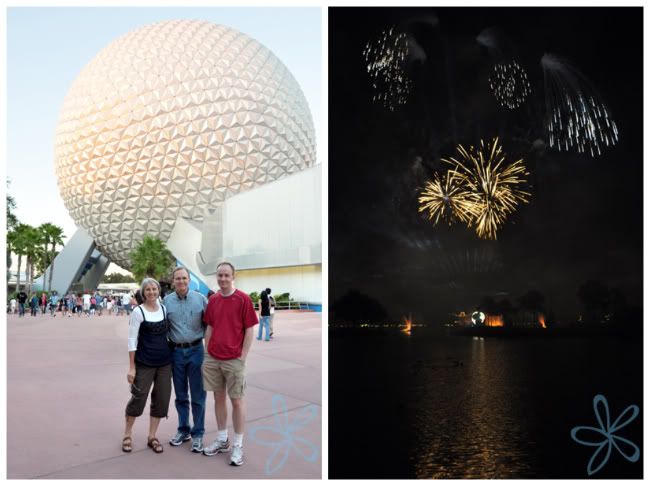 I'm not sure what day we're going to The Wonderful World of Harry Potter yet, but I CANNOT WAIT!!! Thanks, Miss Chess, for sharing

this link

. It made me giddy!
I'll document every second to the best of my ability, promise!
Happy Sunday!