...one of the nicknames of beautiful San Diego.
Day 1
Dad, Madre and I flew to San Diego on monday morning...
All photos copyright of Lindsay Kay 2010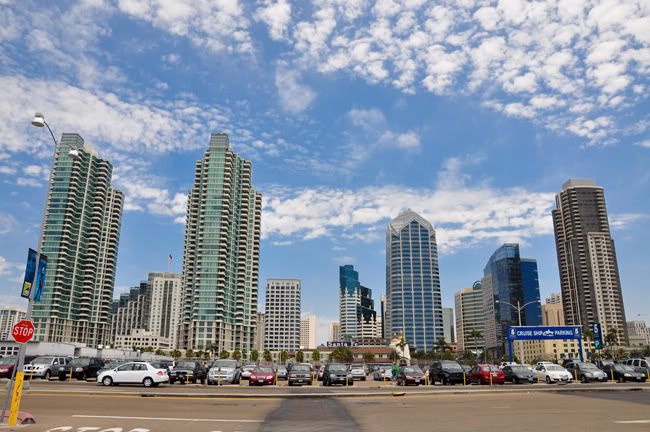 ...and went straight to the zoo. The hotel wasn't expecting us yet, so it was a good way to pass time...a REALLY good way to pass time, I should say. What a cool place!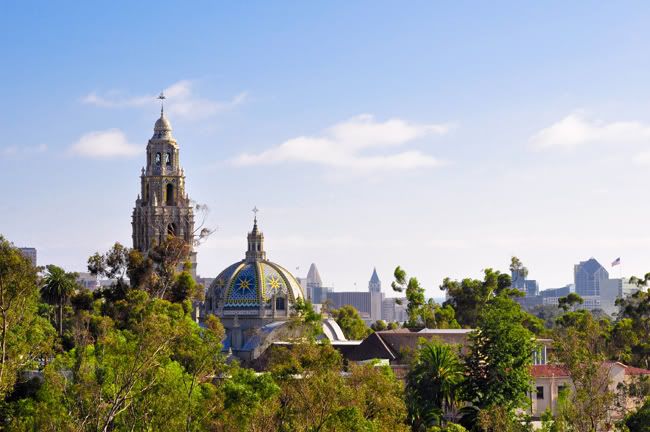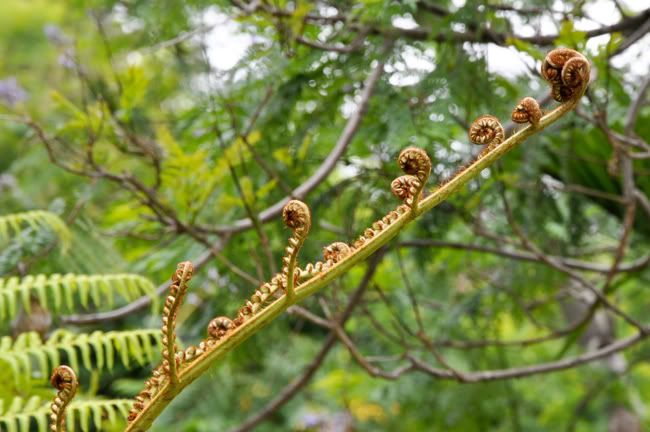 This is my solution to not paying for the over-priced professional park photos.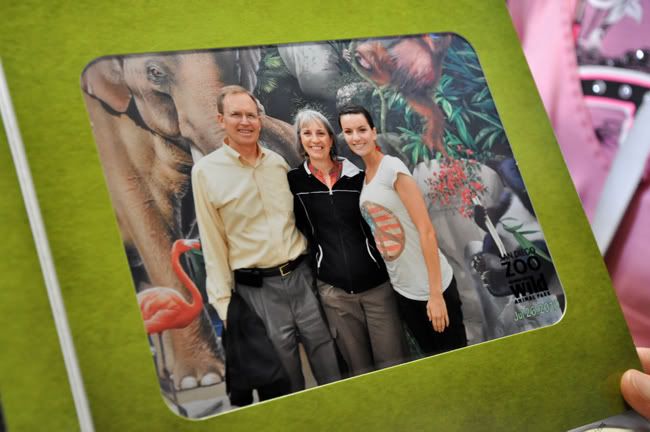 Kookabura sits in the ol' gum... cage...?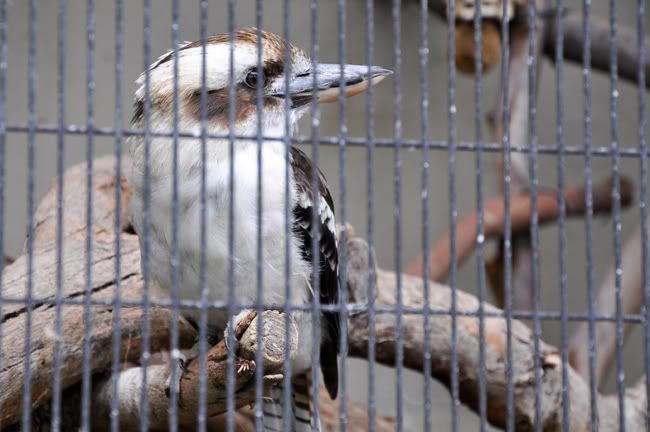 Truly, the San Diego Zoo is home to some of THE coolest plants I have ever seen.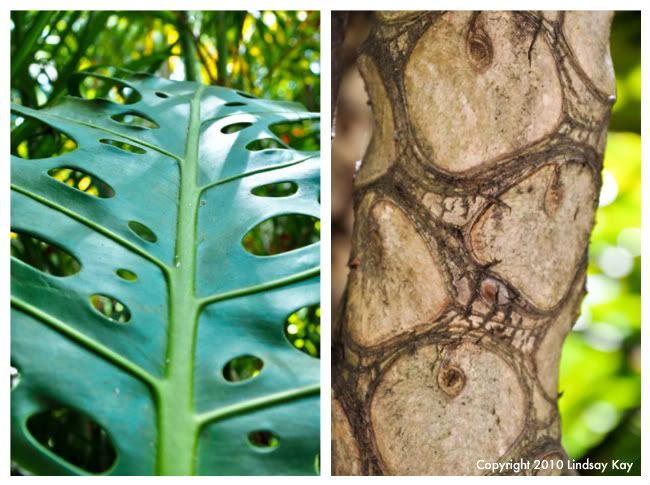 I don't know what this meerkat was looking at, but I think he's adorable.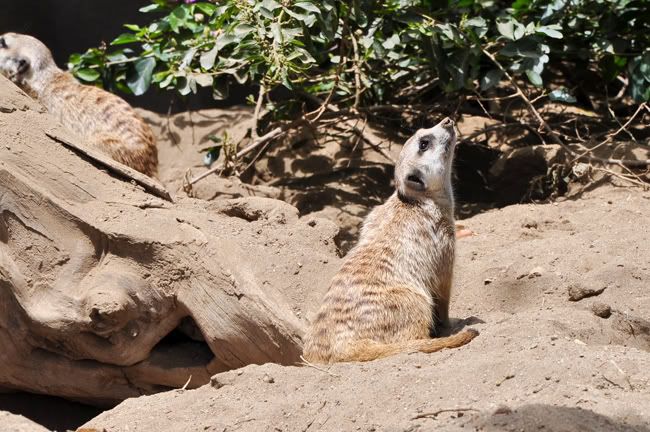 I forgot what this li'l fella is called, but he's definitely sniffing the air for something intriguing.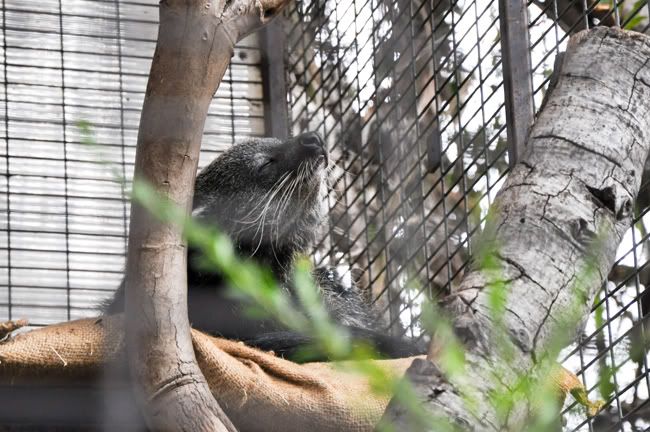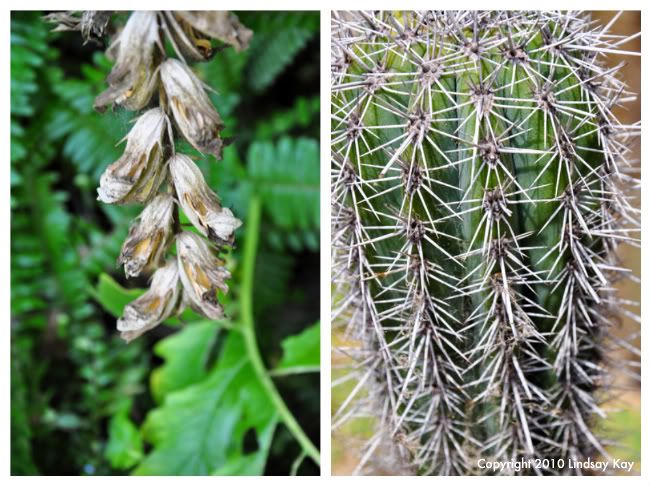 Me no likey snakes. Can you blame me?
He looks like he'd take a chunk out of my leg if it weren't for the glass barrier between us.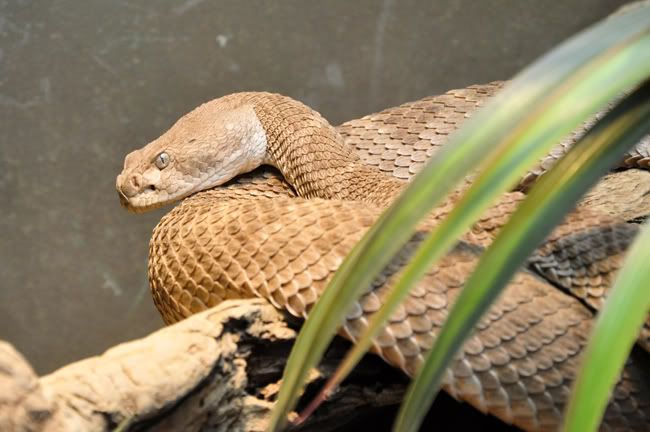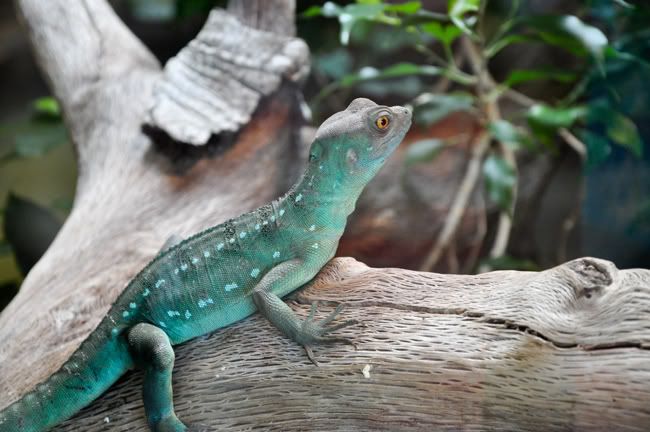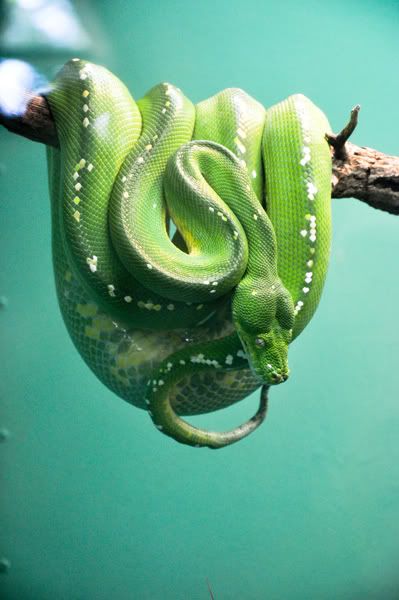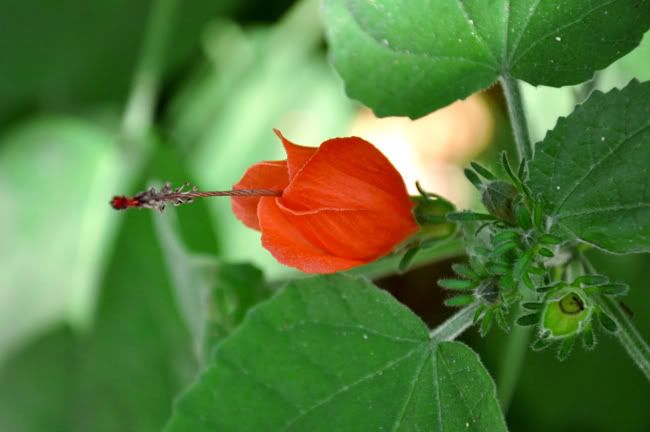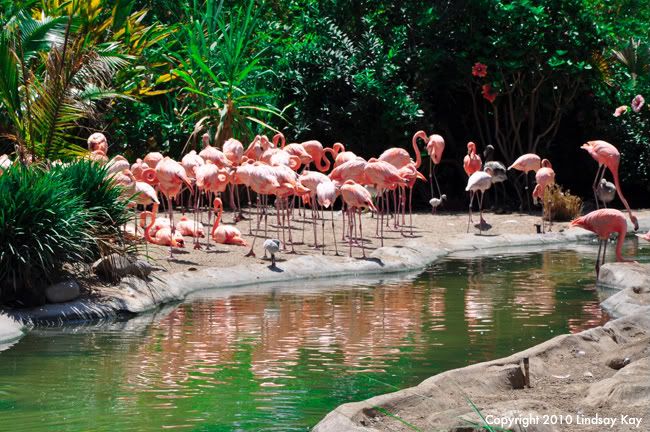 Behold, the two fastest living land animals in the US of A
(...and probably the world, I'm thinking right now):
The antilocapra americana (antelope) and the acinonyx jubatus (cheetah).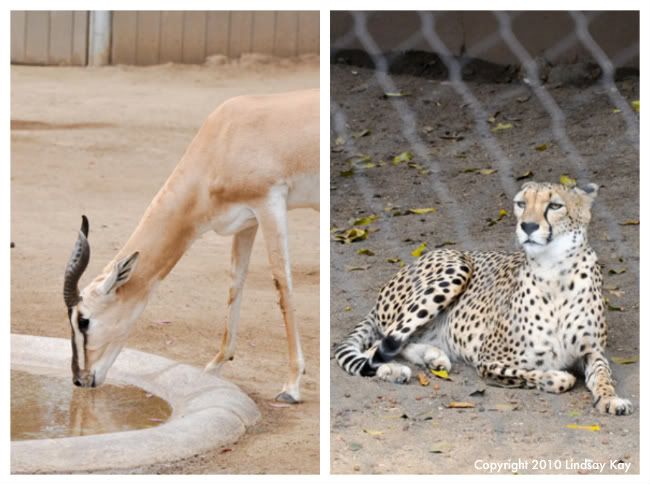 Sans the major clawage on this bear, I thought he looked rather friendly.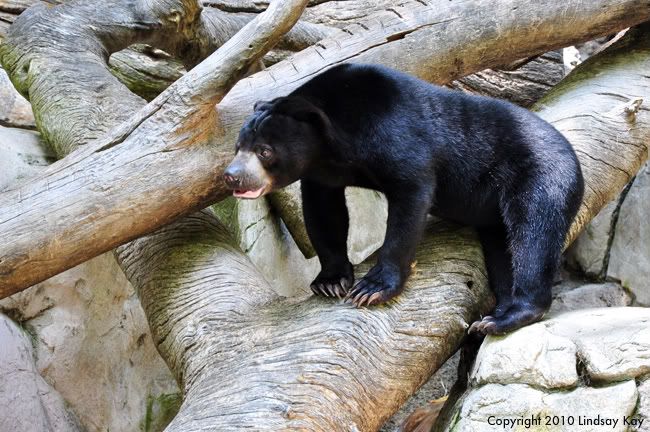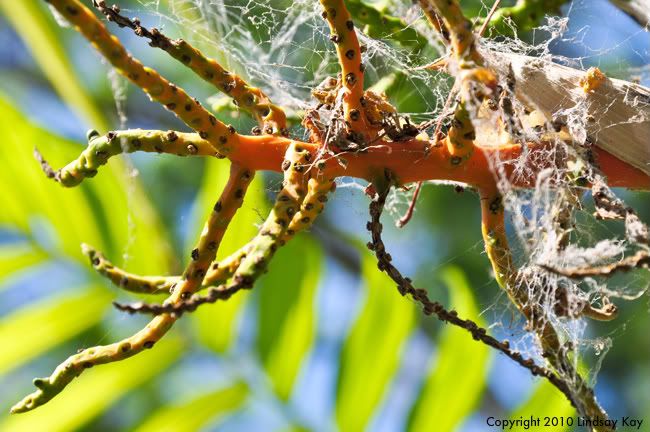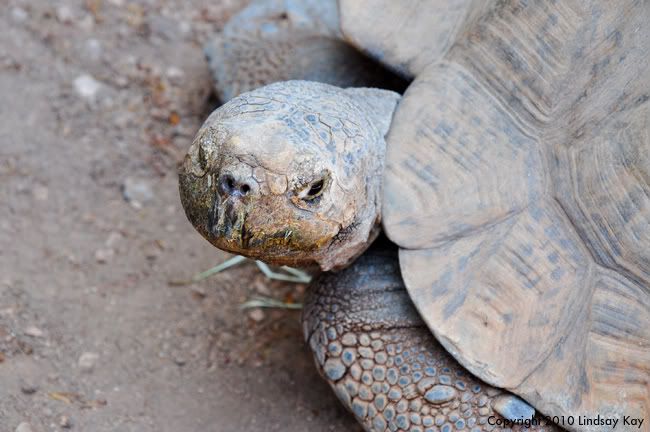 We went to a bird show and watched their trained animals attack unsuspecting volunteers from the audience ...btw, that was a joke.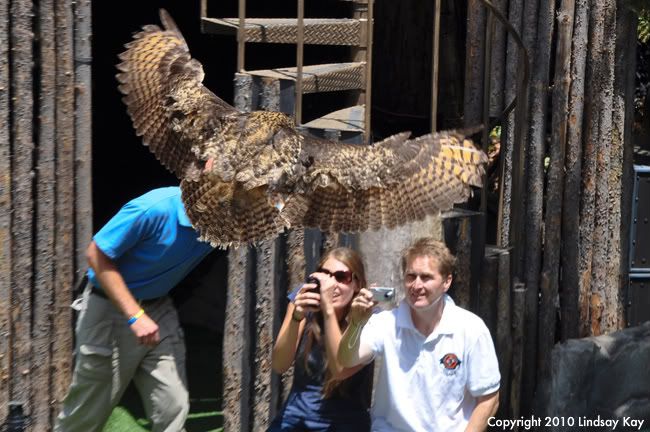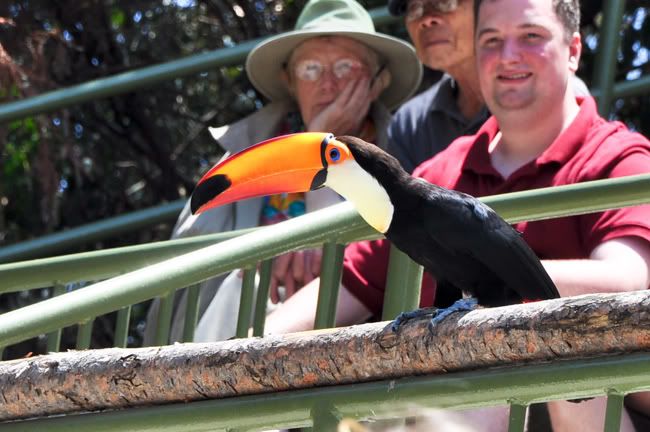 They did, however, have their animals trained to take peoples' money for charitable animal welfare causes and such. Like the recent "California Condor" fund that helped the rapidly diminishing species soar right off the endangered species list. They now have a population of 300 or so. Cool, huh?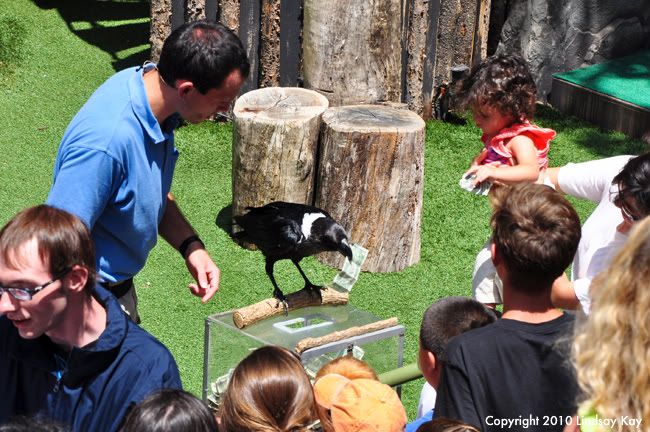 Voile! The aforementioned California Condor and the...um...Red...Faced...Eagle.
...ok, I can't remember its name, but it IS an eagle of some kind.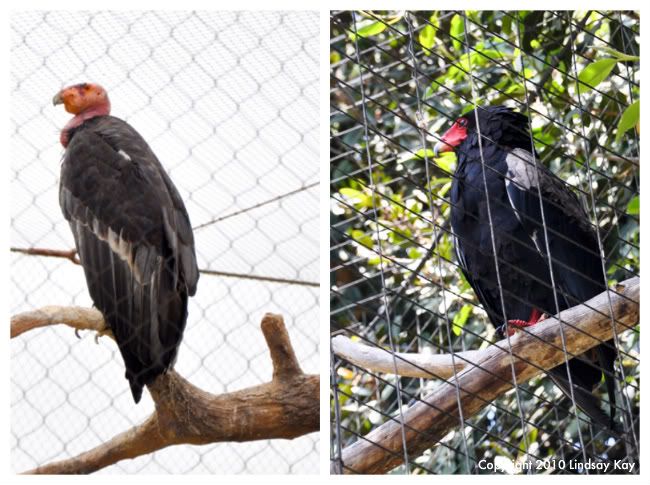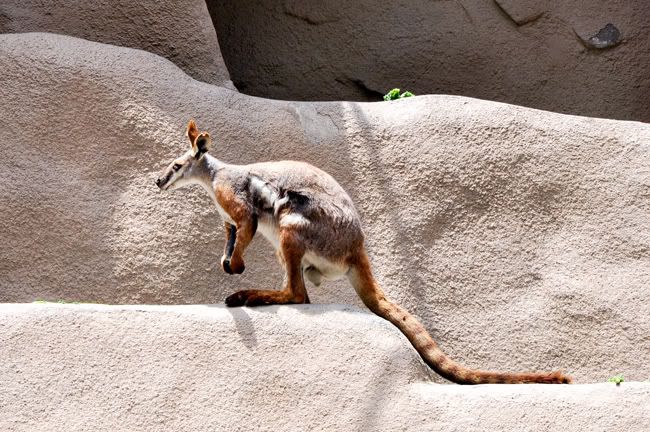 Cutest stinkin' monkey ever. Look at his expression. He must've found something juicy.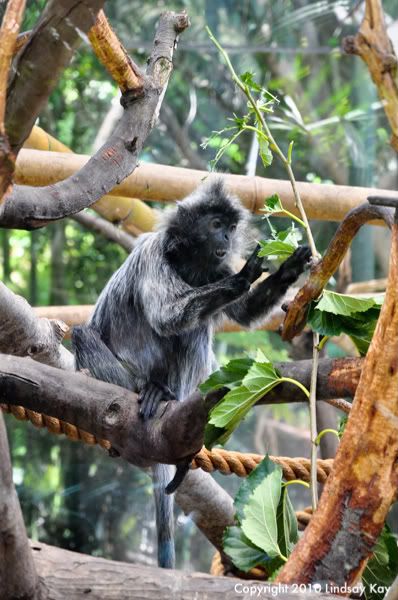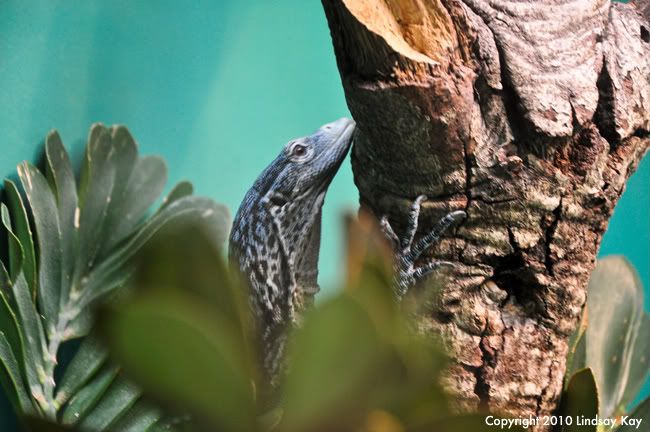 My parents are cute, huh? I love them lots.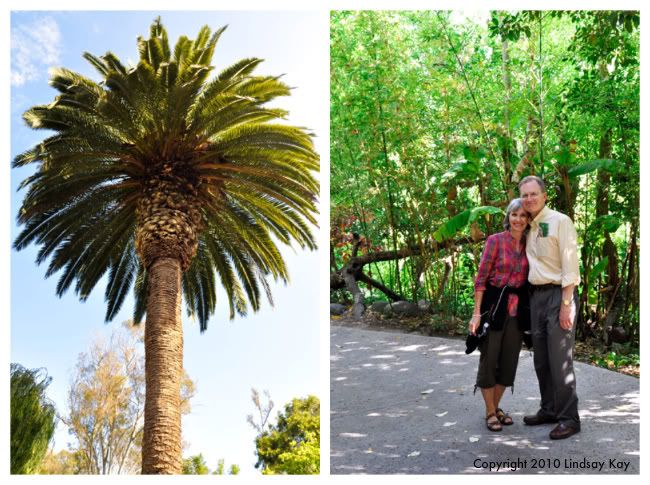 A peacock. Did you know that the pretty ones are the males? This is basically the rule of thumb with most fish and birds and some animals. Females blend-in with their surroundings to protect themselves and their babies and the males fluff themselves up for mating rituals and to scare away predators.
Yes, I'm an Animal Planet nerd and proud of it.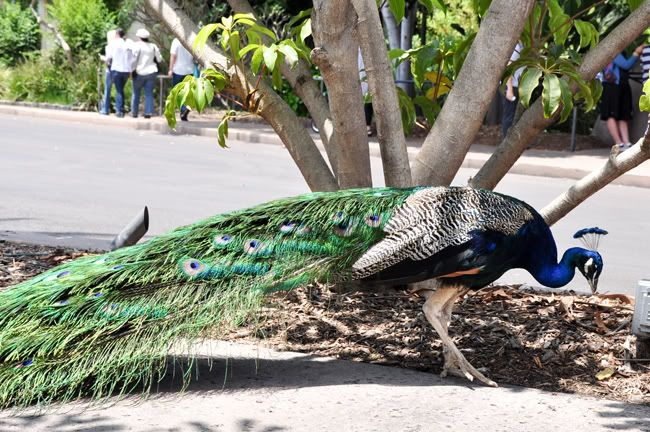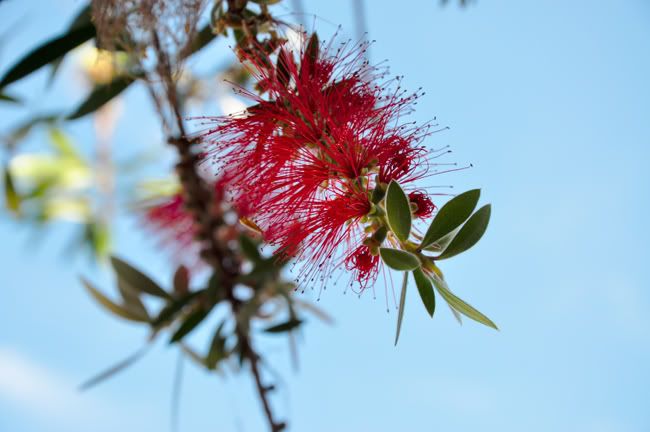 A burrito (little donkey, haha).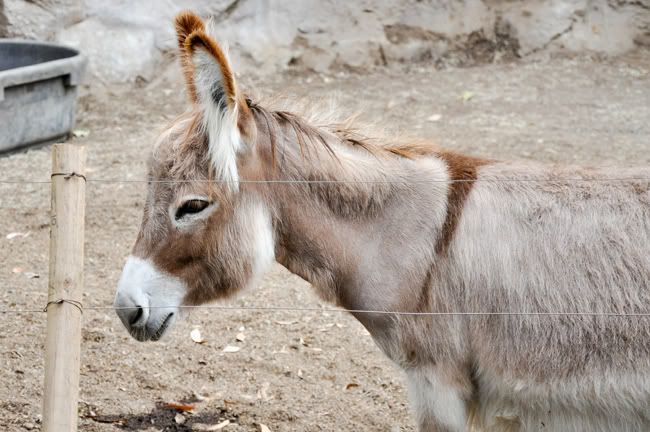 Seriously though, aren't these plants cool?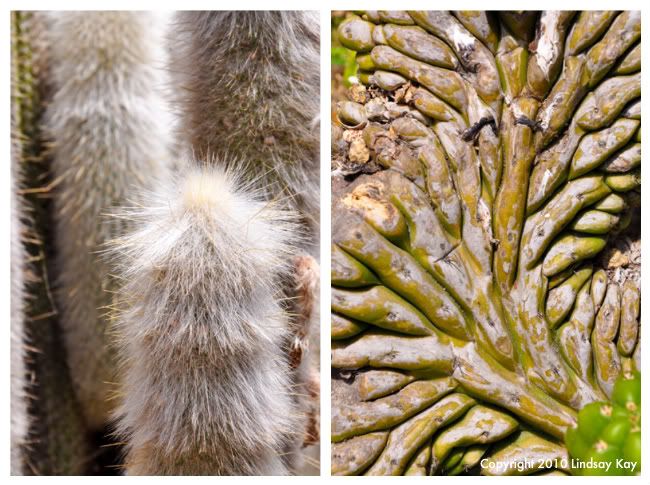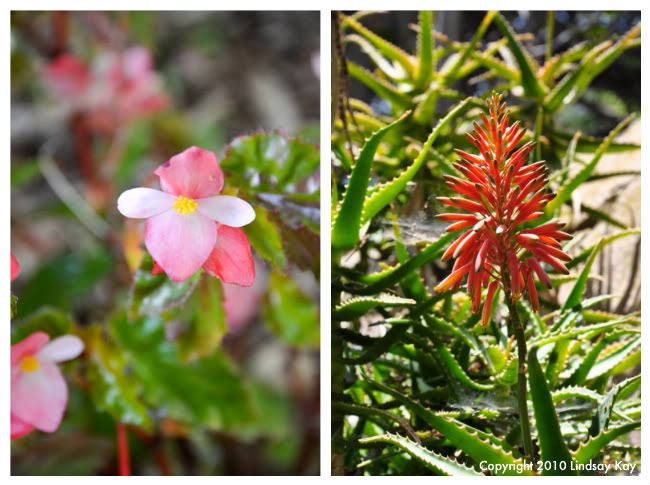 THEN, after we were plum tuckered from walking all over the massive and fabulous zoo, we went to the hotel and settled in. Here's the cool lobby.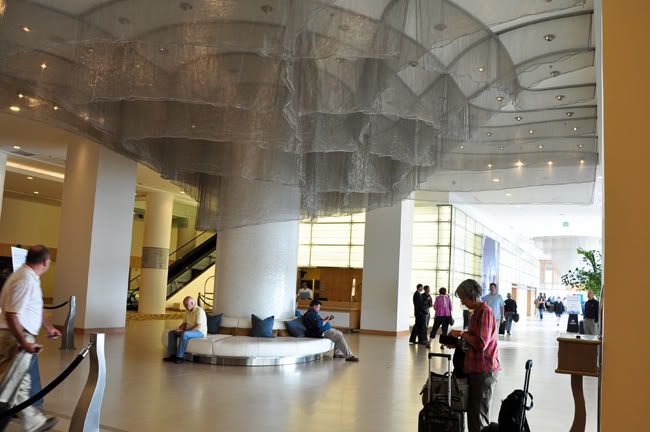 View from our window of the...I wanna call it Coronado Bridge,
cause it goes to Coronado Island ...uh? meh.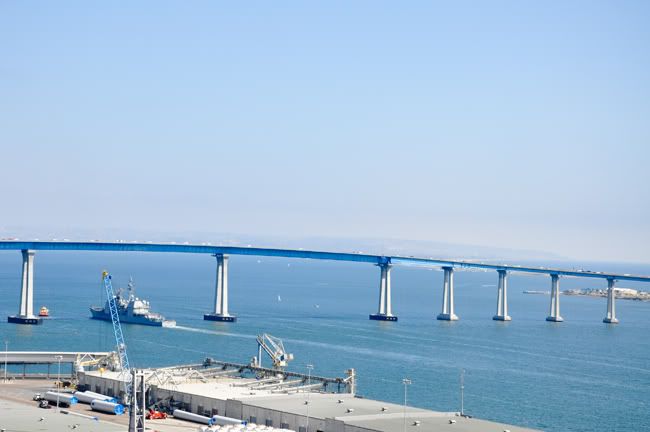 These huge barges from Costa Rica come to the Dole place right by our hotel and deliver fresh bananas. So, naturally, we ate our fair share of bananas while in San Diego.
In fact, after walking around a bit, we went to Fox Sports Grill for dinner and once again acquainted ourselves with Banana Bread Pudding! Allow me to take this moment to say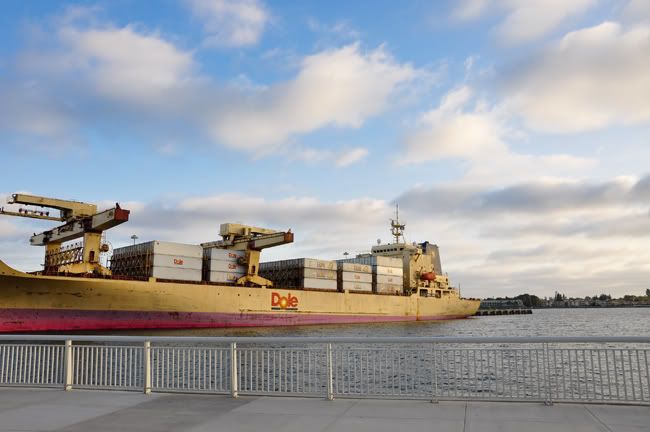 Day 2
Exhibit B: Banana Nut French Toast...emphasis on banana. Yum! It looks (and tasted) more like dessert than breakfast to me, but since when did I grow up? ;)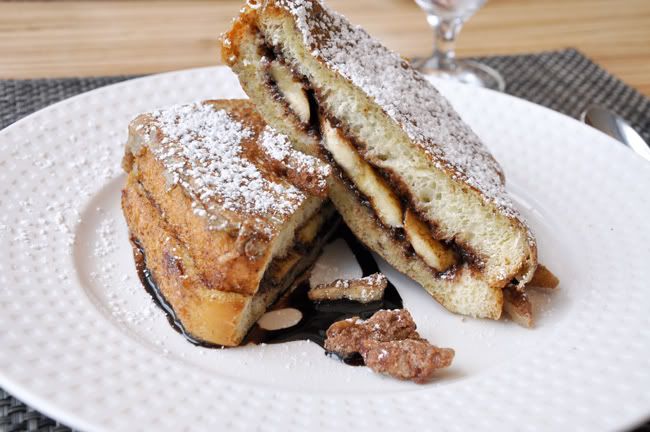 When Dad got back from meetings we walked along the pier and soaked up some lovely San Diego culture and history. Love this place...did I mention that?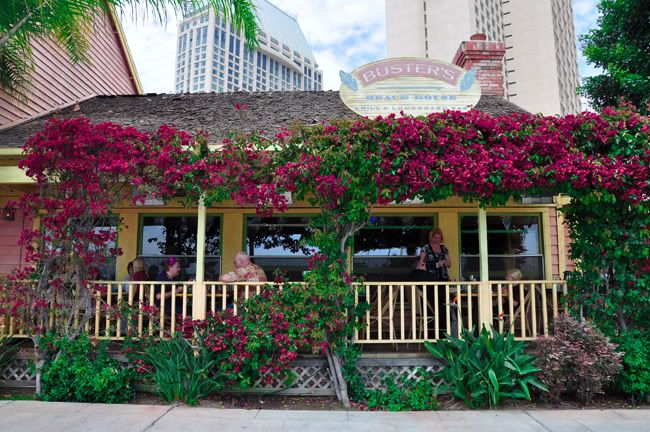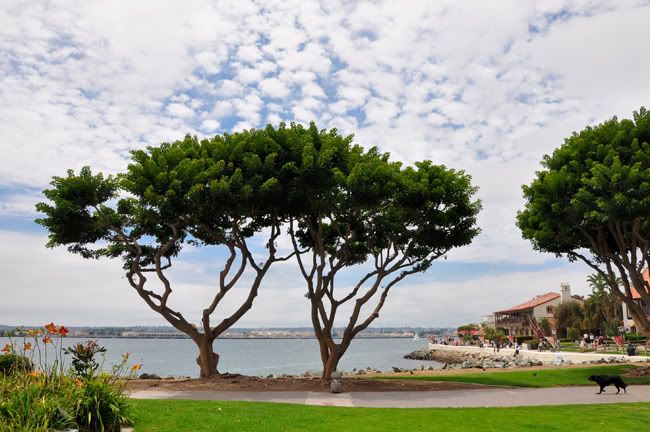 Then: an aircraft carrier from WWII
Now: a WWII museum that Dad loves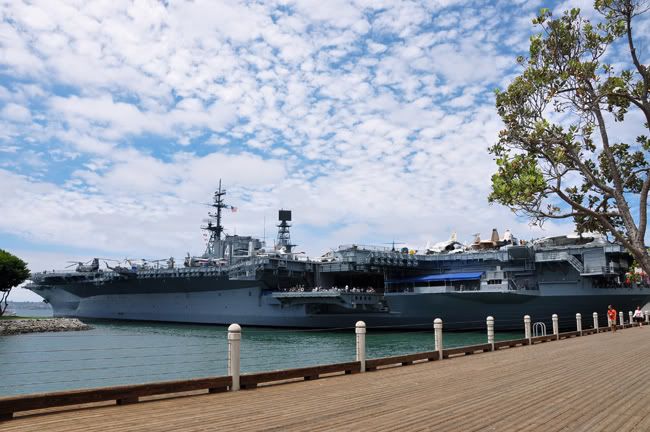 One of my favorite things about San Diego is their obvious love for art. It's EVERYWHERE, as you will see many many times throughout this post. Love it!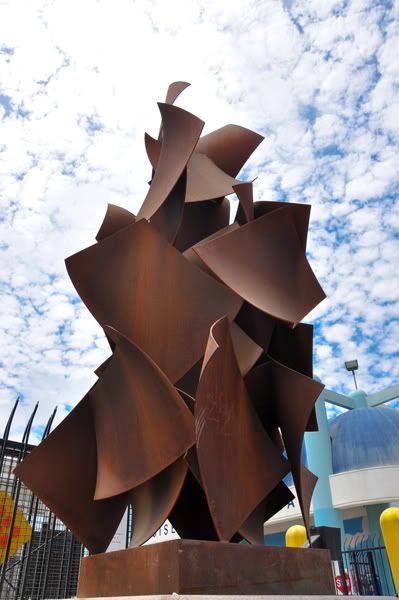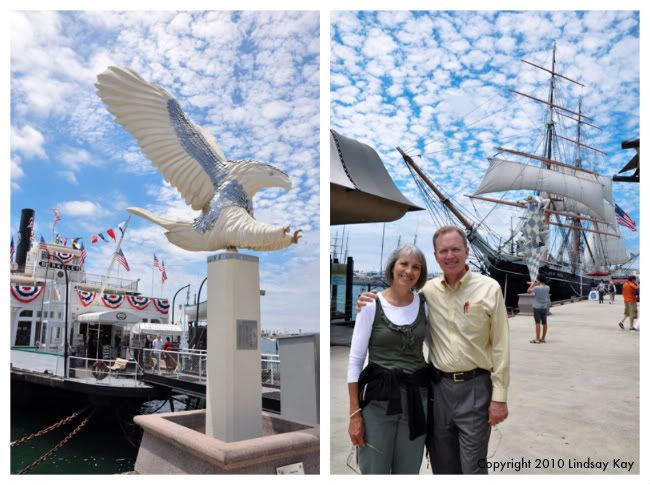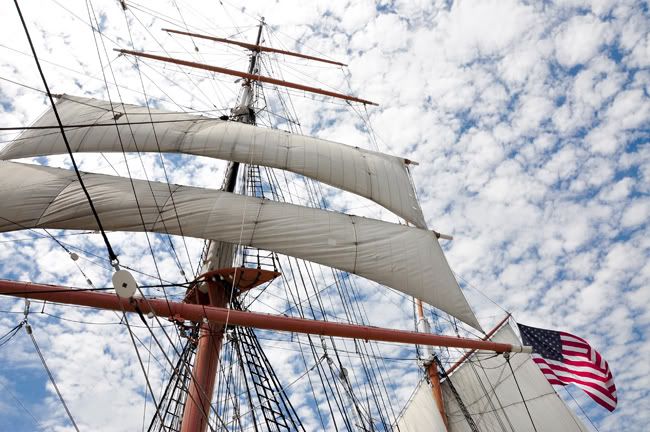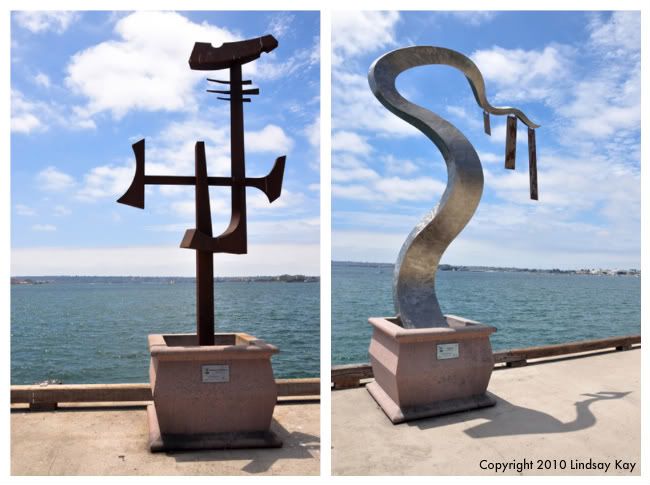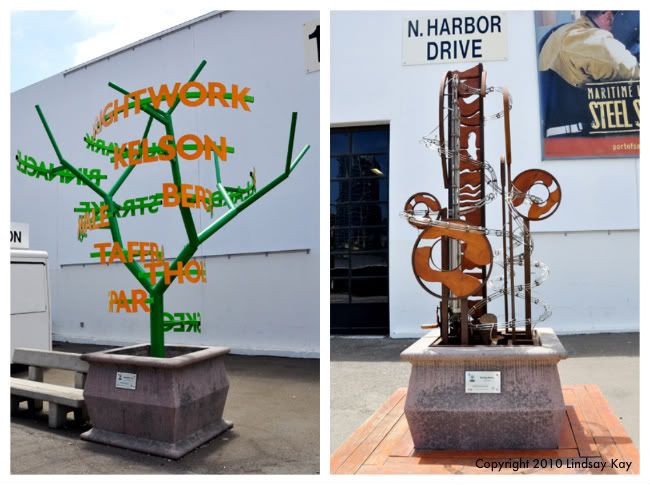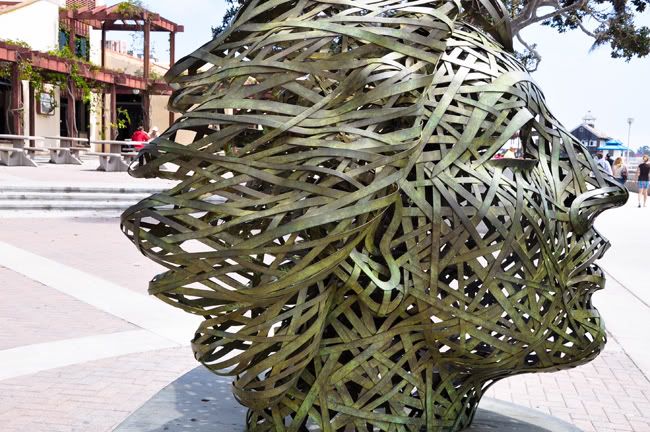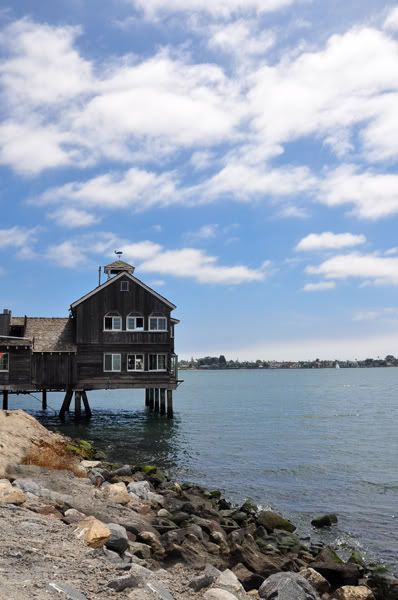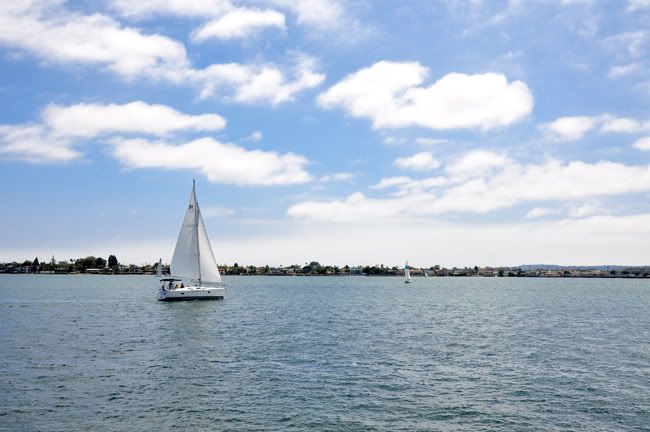 San Diego is also home to some AWESOME trees.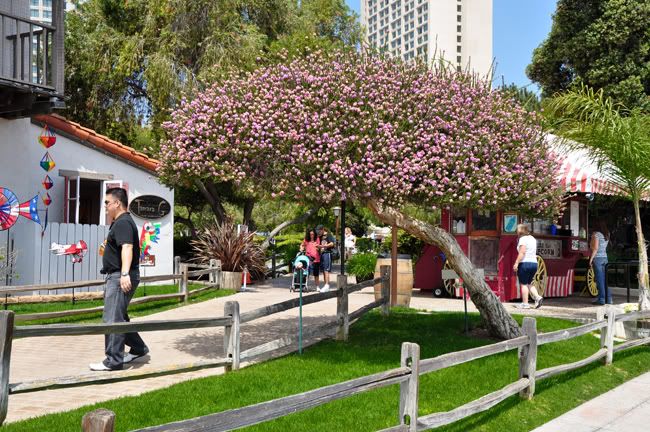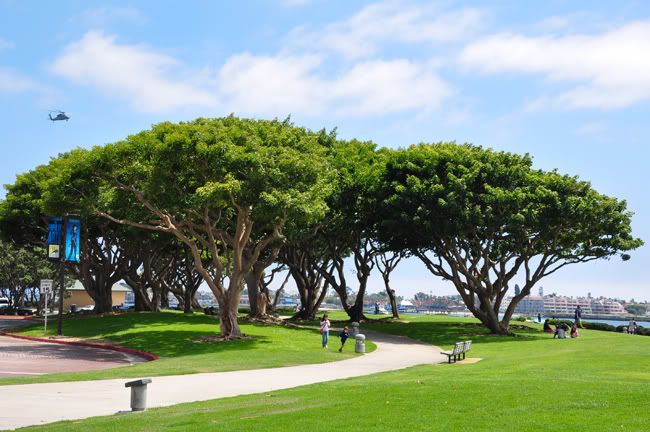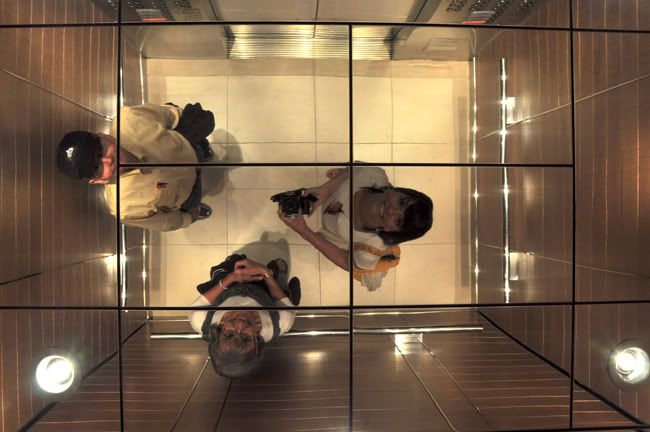 That evening we had the priviledge of watching the San Diego Padres and the Los Angeles Dodgers duke it out at Petco Park. Twas my first major league baseball game.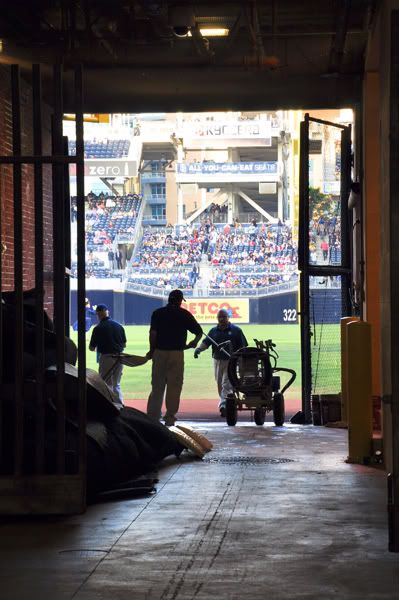 I love this stadium. Not only is it HUGE, but it's a perfect view of the cityscape as well
...at least it was from the nosebleeds ;)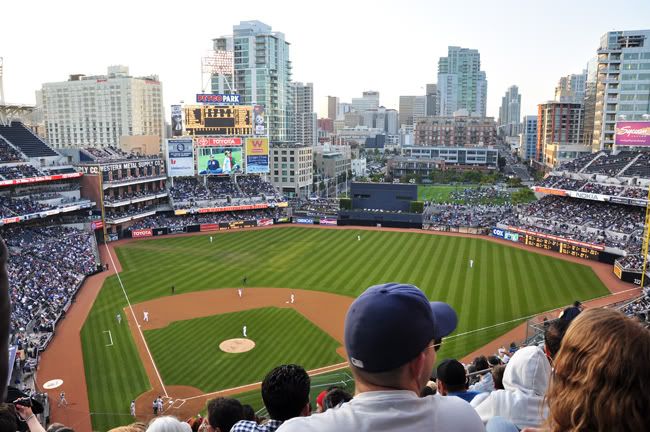 Yes, the airport is very close to the city so the sound of plane engines is not uncommon.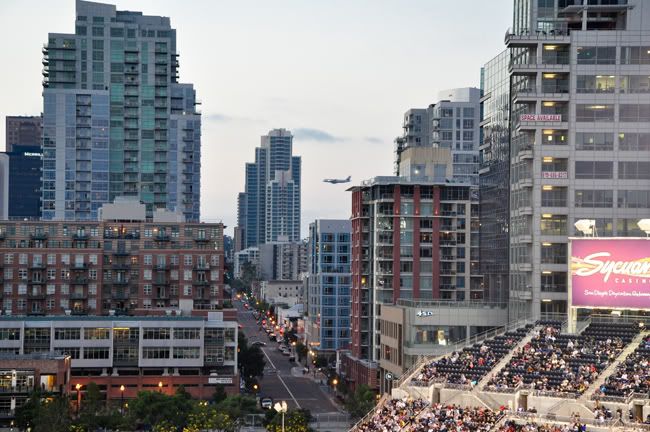 As my friend Travis would say, "Who's your padre?" Ha.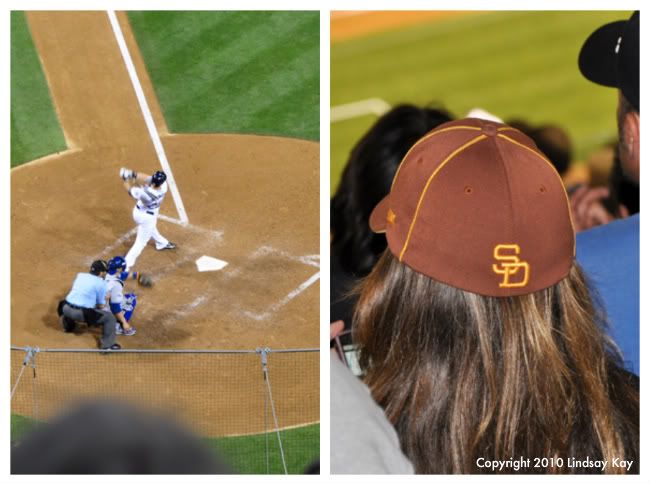 Unfortunately, San Diego was fairly cold and overcastish all week, so, naturally the evenings were brisk. Thankfully, they sold hot chocolate at the game! Yum!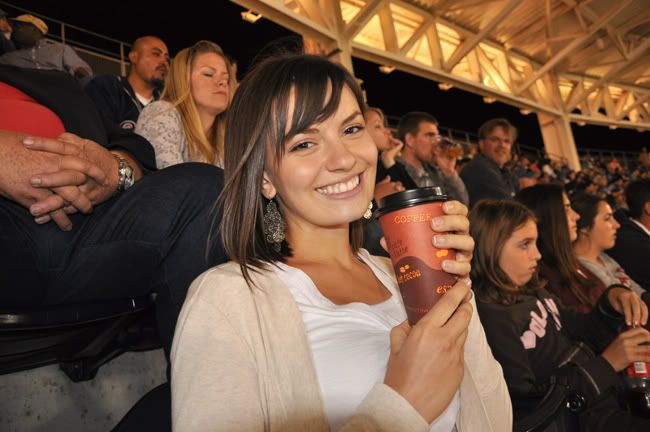 Um...yeah, we pretty much lost.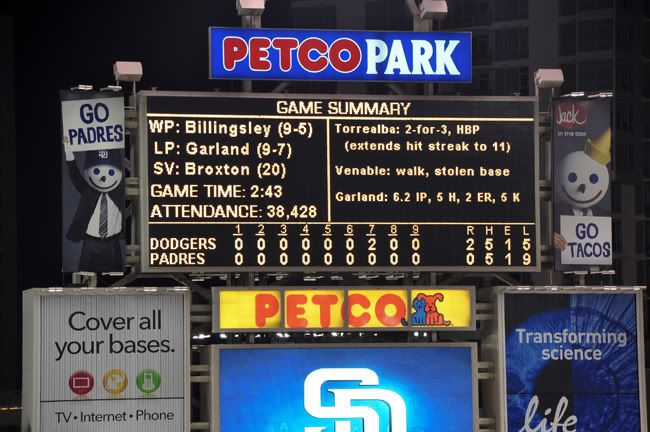 Mom, Dad and Dad's friends from work. Good times!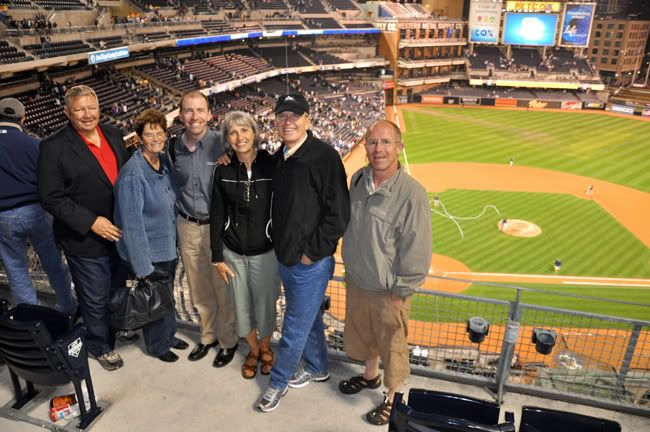 Day 3
Next morning, Madre and I ate (again) at the hotel restaurant - Vela, for breakfast.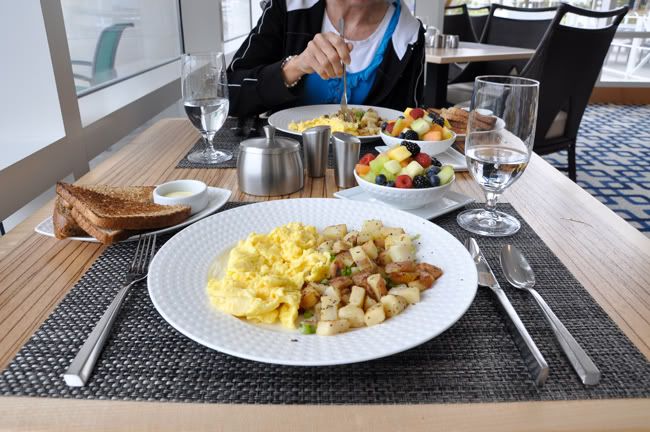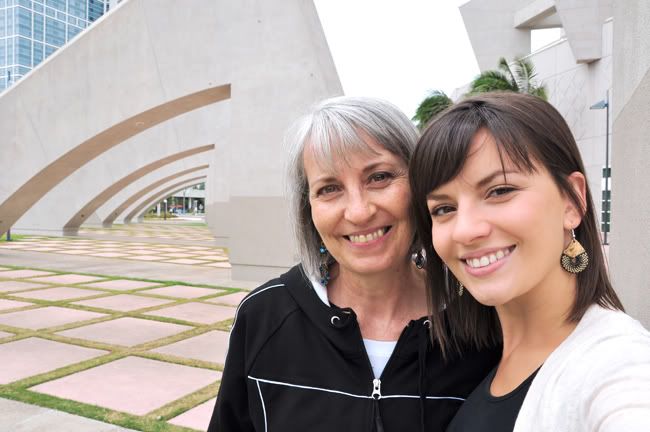 Then, we decided to spend the day in Gaslamp Quarters: shopping, restaurant, and art district extraordinaire ...ok, maybe not "extraordinaire," but it's a fun place to 'splore.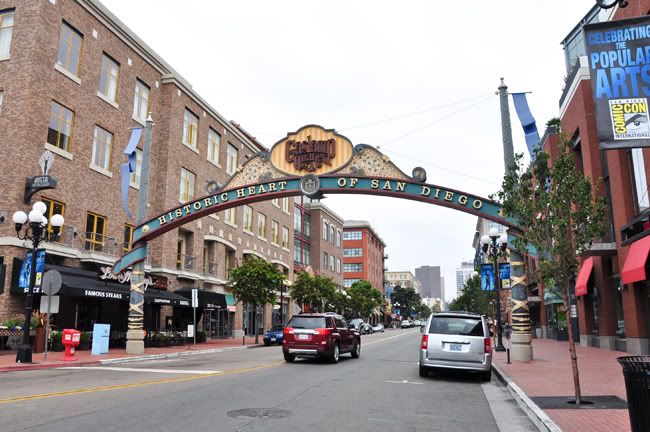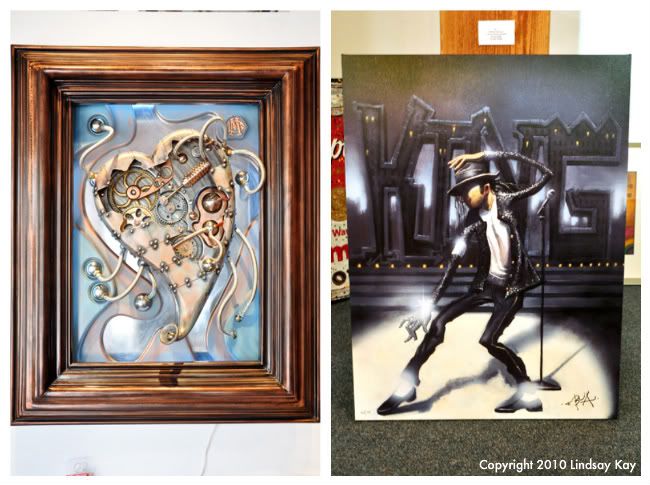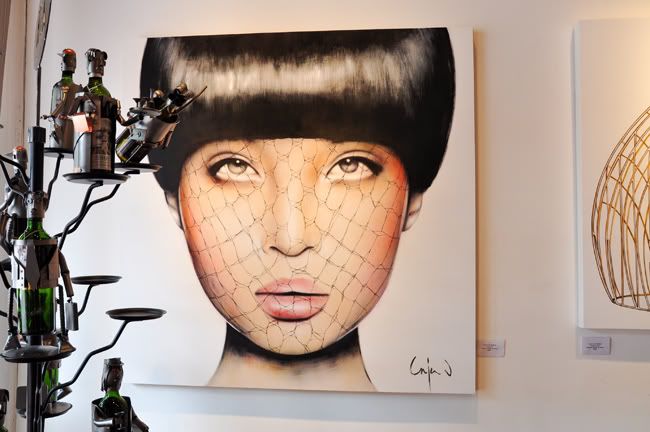 I bought a real cute shirt here. I love the unique (hence the sign) style at Bubbles.
YAY for frozen yogurt places! We were blessed with sunny weather most afternoons and this one didn't prove to be any different, so we needed a cold treat. Completely justified.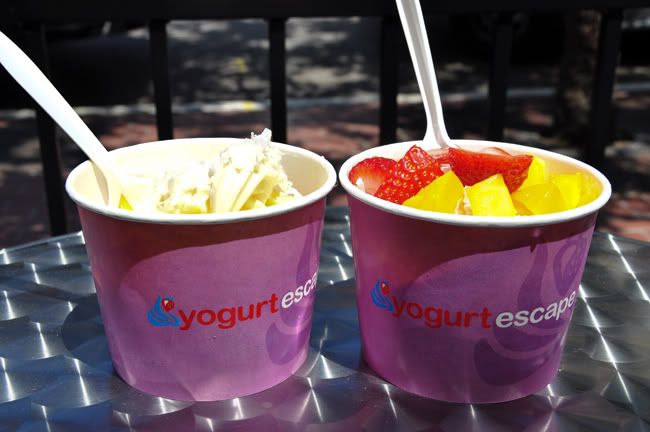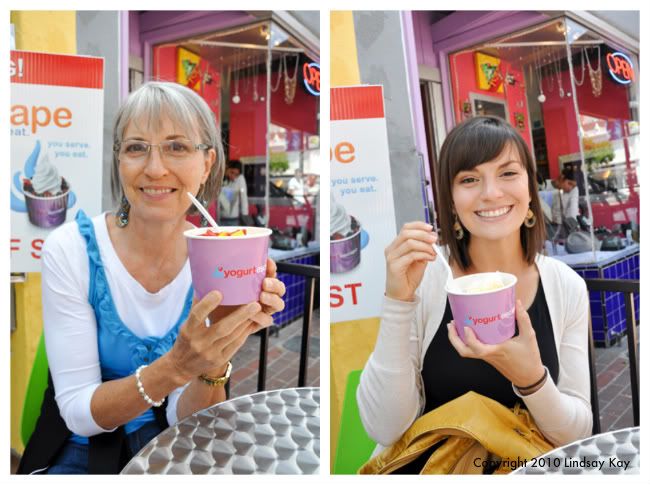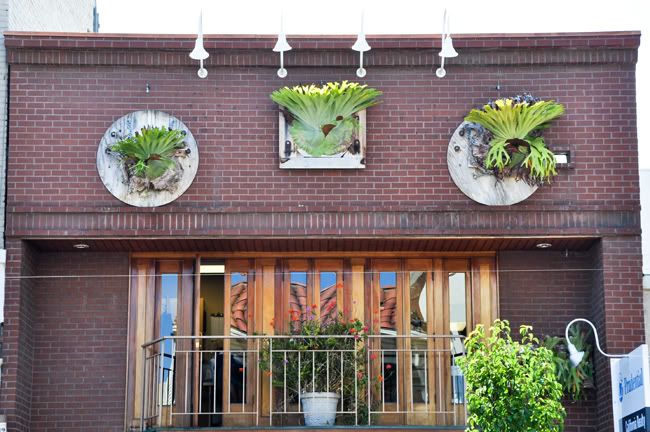 This fun toy store (you heard me) is called Kid's Garage. I love toy stores. The cool thing about this one was all the vintage toys they brought back to life in mint condition for sell. I bought a whoopi cushion (you heard me) and that trick shocking gum. My brother zapped me with that when I was little...I'm going to get him back.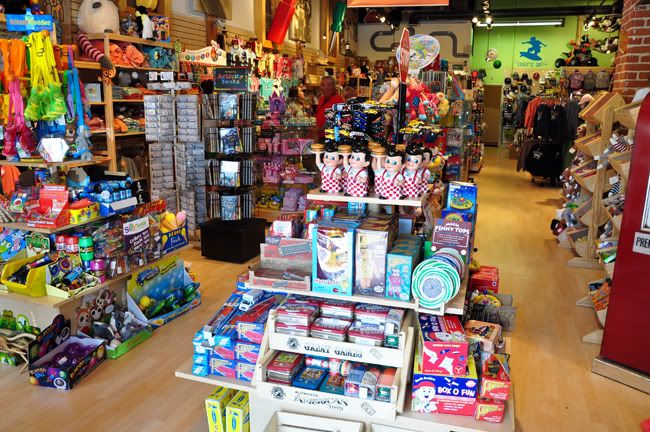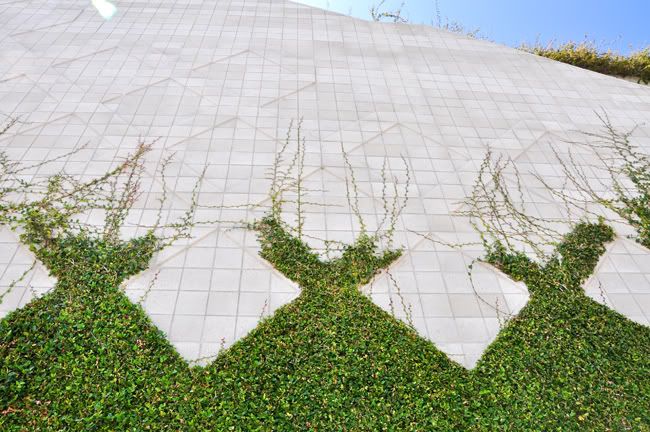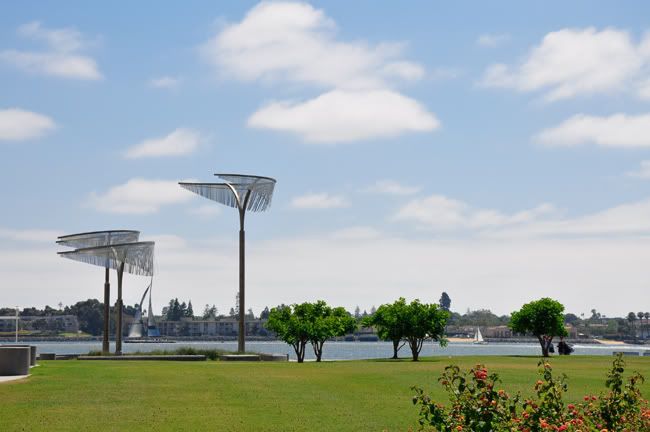 We shopped till we dropped and then went back to the hotel for some reading and nappage. When Dad was done with meetings for the day, Madre and I convinced him that Anthony's clam chowder in a sourdough breadbowl was just the ticket for our growling stomaches. Boy, was it EVER! I'm not a huge seafood person, but WHOA!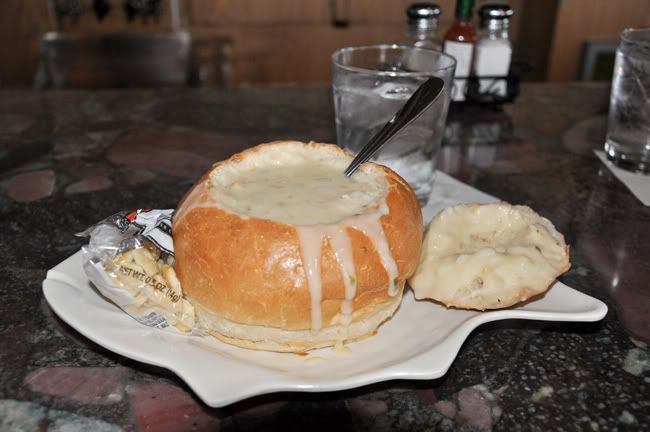 See the shirt I bought? Cute huh? It was billowing in the wind ...that's why I was laughing and looking like a gomer. That's me, for ya.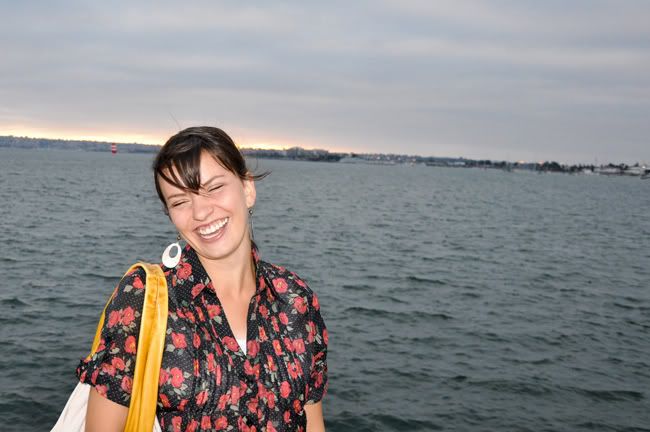 We then decided that we needed chocolate, you know the feeling, so we hit-up this classy joint to quench the craving: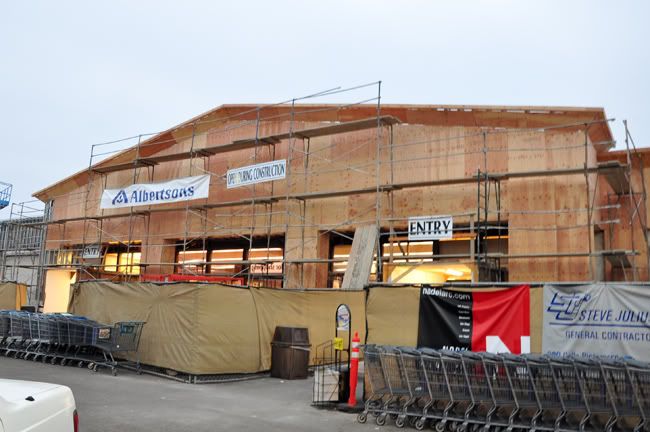 I like to read funny greeting cards.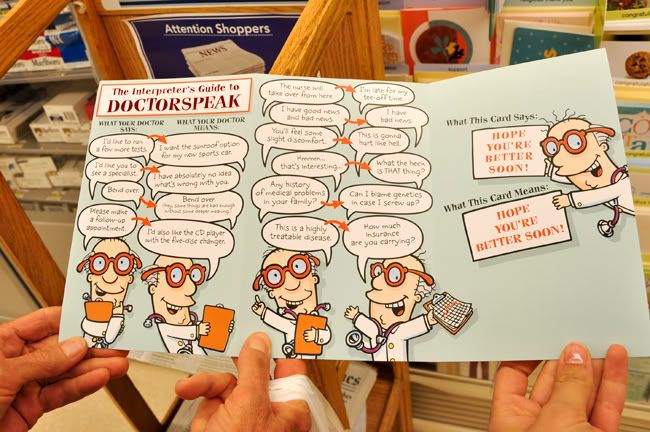 Say "cheese" for the security camera!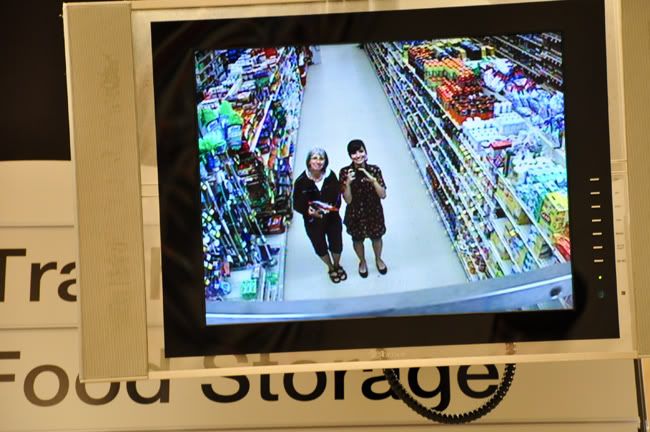 Here we see moi vanna-ing BIC pens and Crayola colored pencils, because I have a mild obsession with brand new, pristine school supplies. YAY FOR SCHOOL! (did I just say that?)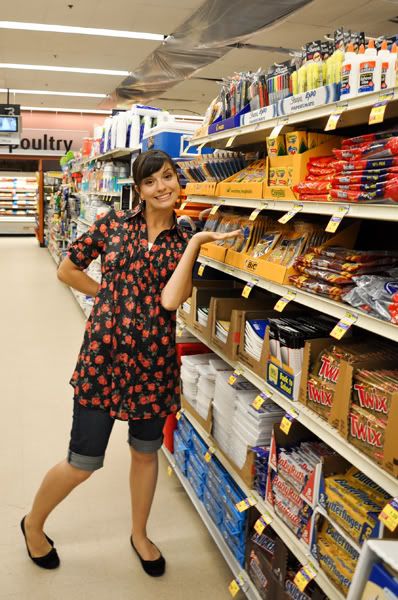 Day 4
After scarfing some food that Dad scarfed from his free business breakfast, Madre and I walked along the pier and saw a boat following a dolphin around doing something ...scientific or running some kind of biological tests or what not.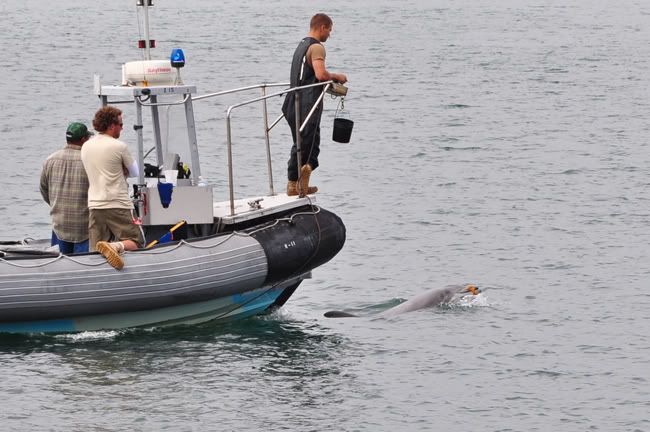 I guess the dolphin was their little helper cause it kept hopping up on the boat. It was cool to watch, I just hope they were being nice to it. I like dolphins...though I'd probably never touch one. I'm a scaredy cat when it comes to underwater stuff. I can't even stare at a fish tank for too long without hyperventilating ...that may or may not be a mild exaggeration.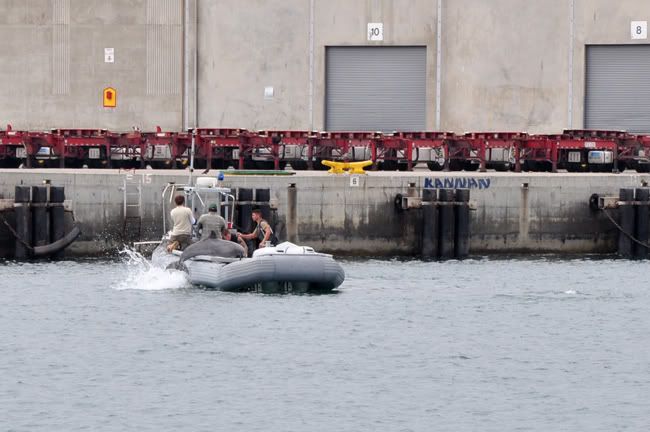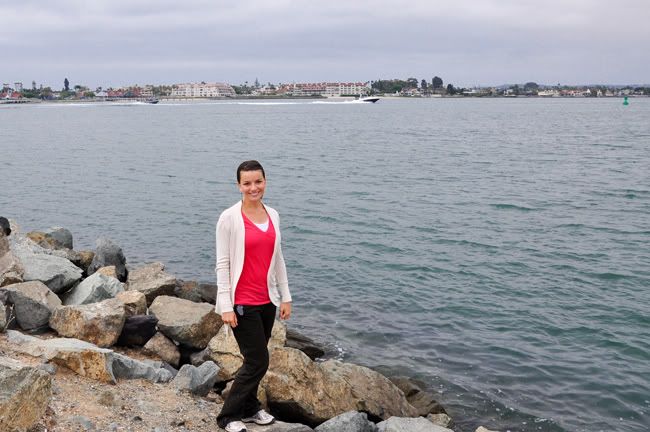 This day, Madre and I explored Seaport Village along the pier. Super cute place! There were lots of little shops and eateries, etc. Great place for a mommy-daughter outing.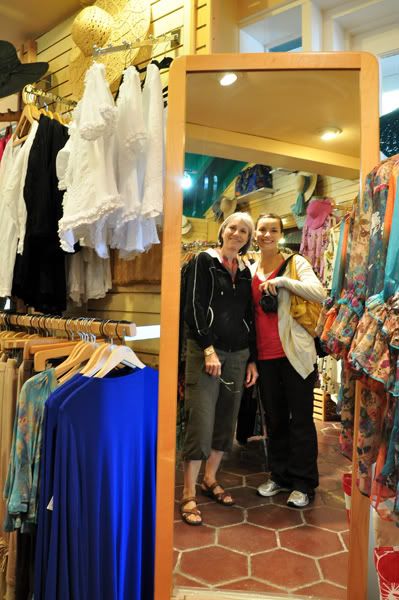 So, I'm not sure what the "Red Hats Society" is, but I got a kick out of all these fancy-schmancy old ladies walking around all decked out in feather boas and gaudy earrings. Whoever they are, they made the day mucho entertaining for me.
If you look carefully you can see the reflection of me pretending to taking a picture of Madre in front of this deli ...I really just wanted to take a picture of these ladies brunching together.
Then, Madre and I decided to eat at that very deli. I got the walnut chicken sandwich and Madre got the BBQ sandwich. I must admit, after having a bite of hers I was a bit jealous that I didn't get the same thing. It was SO-O-O yum.
Ladies and gentlemen, I present to you my new favorite plant ever:
This thing! Tah dah!
I nicknamed it the "Wild Things Bush," because it's blossoms (blossoms?) remind me of the arms of the creatures in one of my favorite childrens books, "Where The Wild Things Are."
P.S. Not a fan of that movie :P
Ok. Brace yourselves, cause this next part made my day.
So, we were just walkin along, Madre and I, minding our own business when out of the corner of my eye I see a macaw (big rainbow'd parrot-looking bird). A man had set out some bird stands and had a bunch of tropical parrots and such just sitting out for people to come and HOLD! After watching for a couple of minutes he came right up to me and just stuck a bird on my arm. He said, "Just hold, don't pet," and walked back to supervise the other birds . . .
Ok, random, spontanious and slightly weird? Yes.
Super coolest thing ever? Heck yes!
For those of you who don't know, I have a thing for holding birds. In Venice, Italy I begged my dad to buy a "special packet" of bird seed to attract the oh-so friendly (not to mention oh-so dirty) pigeons on St. Marks Square. Oh yes, those things landed on my arms and head and, oddly enough, I loved every minute of it. Weird fettish.
Also, one of my many (
recently crushed
) bucket list items is "Hold a bald eagle."
I can't be the only one who thinks that would be the coolest thing ever, right?
So anyway, end of tangent.
Long story short, holding a macaw is absolutely my weird kind of fun.
I'm 200% convinced that I have the coolest mom on the planet. She's so fun!
I love how it looks like someone cut a slice out of this tree's leafage.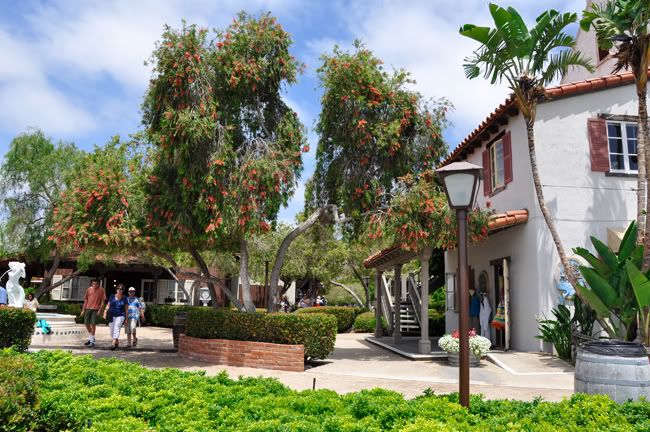 Cute old man playing his keyboard on the pier.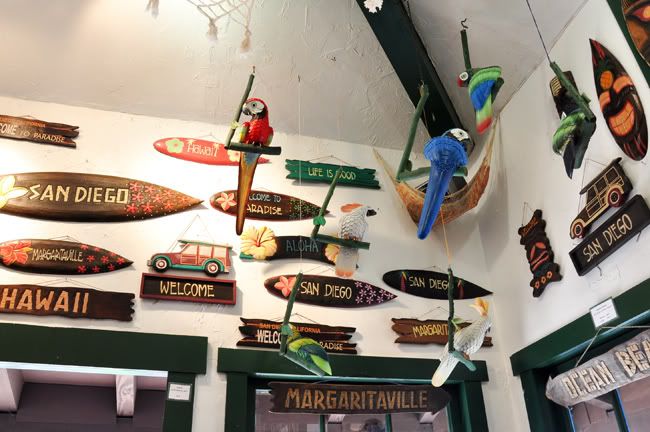 Corny sidewalk magic shows, gotta love 'em.
After Dad got out of meetings (again) we decided to spend our final evening along the coast of lovely La Jolla (pronounced "La Hoya").
I discovered that I really like pelicans.
And, of course, we already know that I really like squirrels and/or taking photos of them.
I wanna do this kind of thing someday, just pack up my gear and paint or draw really pretty places out in the open. Ah, ART = my heART :)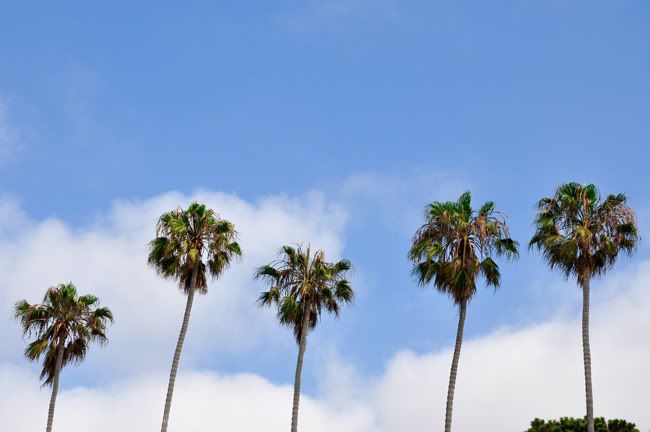 This is my favorite picture of the whole trip I think...
I love how clearly it turned out. I think I'll print it real big and hang it somewhere.
Sea lions are fun to watch...especially when they're not sleeping.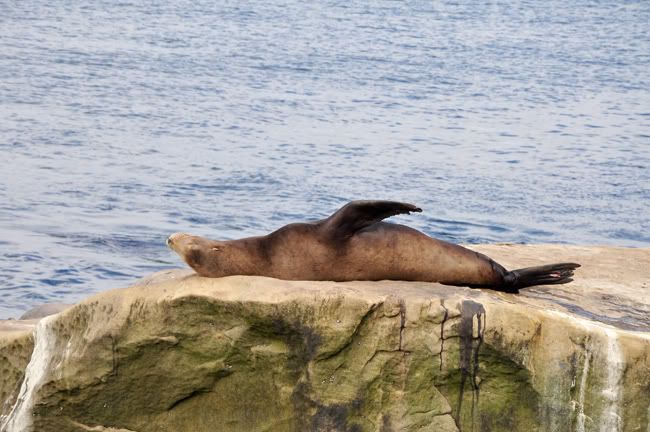 Aw. Isn't that cute? They're smooching :)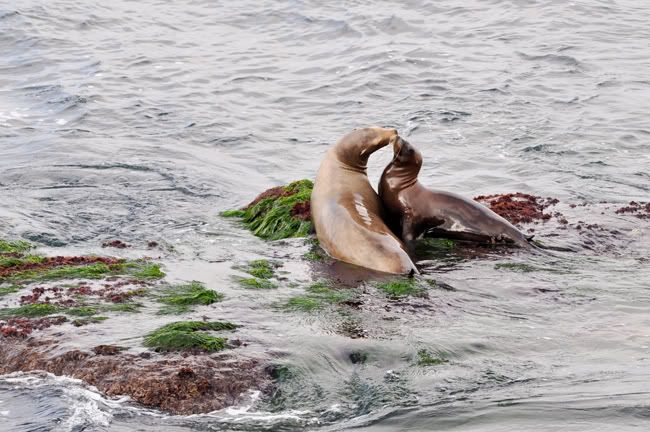 Pardon my least favorite of my features (aka my not-so-cute square feet...no offense to my father from wence they came), but I had to take a picture of this carving someone apparently made for me! ;)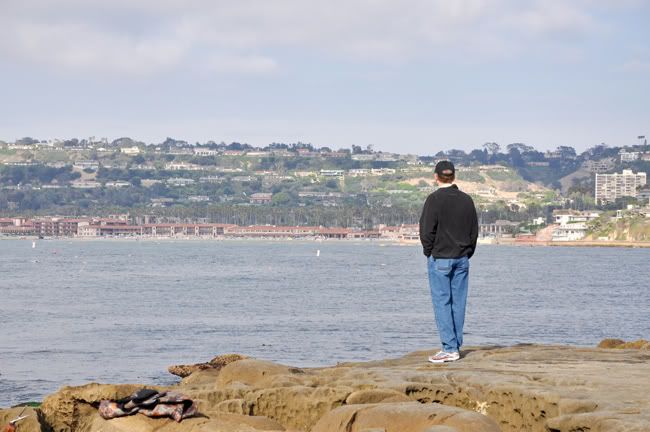 Look! It's an amenome...a manemone...an anemone.
Creepy crawly crabs. Good thing they don't like me as much as I don't like them.
Clearly, this li'l fella knew I was taking his picture.
Ha! Cute witto squirrew. This reminds me of Thumper eating the blossom on Bambi.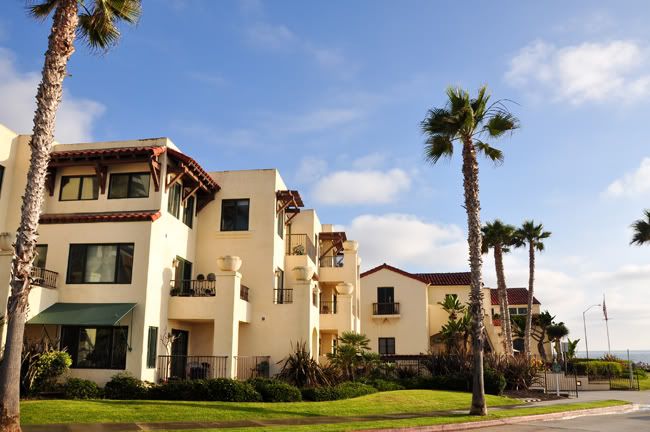 Seashells, sand and barnacles.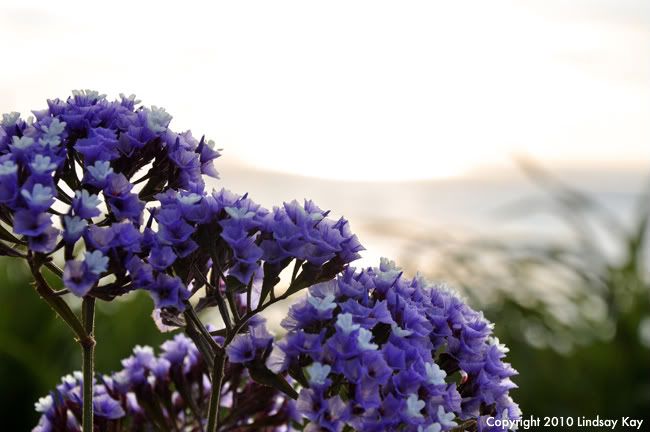 I had to. Can you blame me? It's adorable.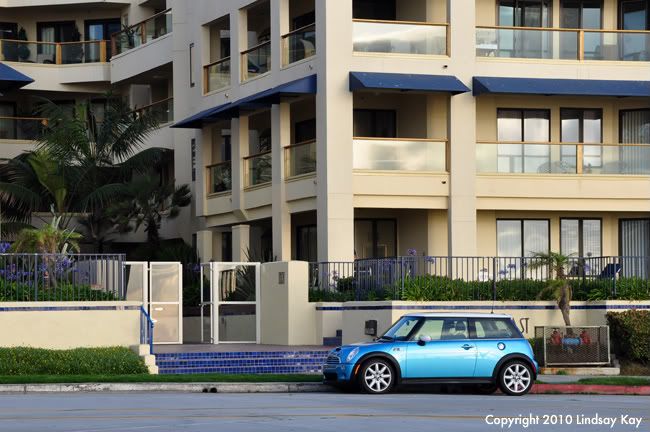 Once again, my parents are THE best.
Museum of Contemporary Art...gotta love that display.
This photo makes my heart smile.
I have to tell you. It was THE most magical thing to watch the sun sink lower and lower and lower in the sky until it seemed to dip right into the ocean and extinguish itself. I'm not used to having a clear horizon to watch the sunset against, so I was grateful for this new and beautiful perspective. I will never forget that peaceful experience. I love sunsets!
psssssst
...and, ya know what else?
I love San Diego!
Thanks, Dad for letting me tag along with you on your fun business trips.
Thanks, Mom for tagging along with me on Dad's fun business trips.
I love you, guys, mucho and forever! :)
Click
HERE
for a gander at last year's adventure.
All photos copyright of Lindsay Kay 2010